Many of the ceramic Portuguese traditional pieces are hand-painted by incredibly talented artisans. If you're looking for something that is still
faithful
to tradition you'll find it for sure at Oporto stores. But contemporary pieces are also available.
Most popular n
ational brands have preserved the classic and developed new creations.
Ceramic and porcelain are used both for household utensils as for decorative pieces. Some are rustic, others are exquisite.
Since the turn of the XIXth to the XXth century, the factories in the Caldas da Rainha area have been specialising in porcelain pieces. They create caricatures and many pieces that are unusual for its humour and imagination. Look at this example. They are often inspired in Nature, by animals or plants. I love it!
Lots of different pieces on this shop. I think I'll have to write a new postage for each one of the ceramics represented here. They come from several different Portuguese regions.
This balcony is on Ribeira, near river Douro. Bellow it there's the shop I just mentioned.
And the famous Portuguese Rooster of Luck seems to be the main offer of this other store I found. Indeed very eye-catching as no one can't ignore so much color!
I'll write more about Portuguese Ceramic on a future occasion.
Sorry if I did not write enough today. I don't have much time and I am not in one of my best moods.
I took this last photo to show you where I got my inspiration for my Portuguese Rooster Products: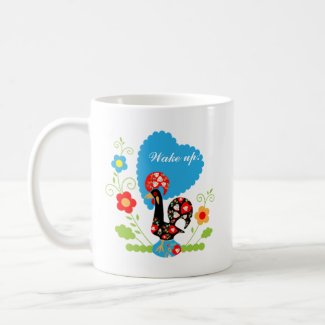 The Portuguese Rooster of Luck by aportugueselove
Design your own custom mugs on zazzle.