The songs of the Portuguese Carnation Revolution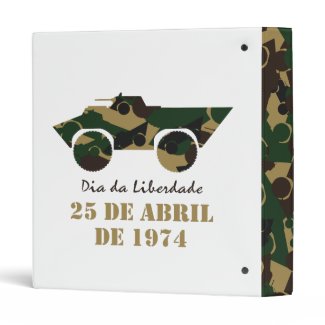 Portugal, Dia da Liberdade (Freedom Day) Vinyl Binders by aportugueselove
Browse other Abril Binders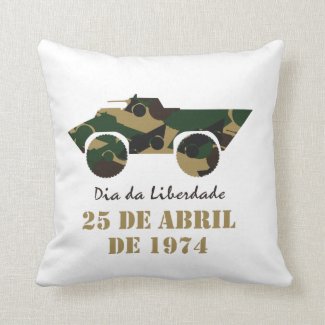 Portugal, 25 de Abril - Freedom Day Throw Pillow by aportugueselove
Shop for another throw pillow.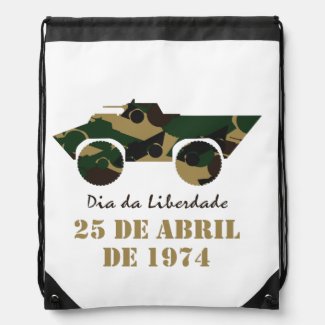 Portugal, 25 de Abril - Freedom Day Drawstring Backpack by aportugueselove
View another Drawstring bag at Zazzle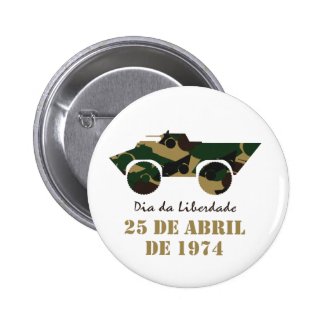 Portugal, 25 de Abril - Freedom Day 2 Inch Round Button by aportugueselove
Create your own custom made buttons online at zazzle.com
Portugal's Radio Renascença played a folk song called
Grândola Vila Morena
at 25 minutes past midnight on Thursday, 25 April 1974 - Fair town of Grândola, land of fraternity, the people is the one who rules most within you, city.
For more than a hundred army officers that song was the signal, they were waiting to start the move to Lisbon in their military vehicles. (If you take a look at 25 April Revolution footage and photos you'll see these vehicles on the streets of Lisbon with soldiers on top and then civilians. A "chaimite" is a light armored personnel carrier vehicle. It debuted in 1967 and performed during the Portuguese Colonial War. This Portuguese-designed combat vehicle was developed to meet the requirement of the Portuguese armed forces by the Portuguese company Bravia.)
This was a song from Zeca Afonso. This composer/singer and songwriter is acclaimed for his folk/social intervention and protest music.
But 90 minutes earlier the radio station played the first agreed signal, another song called
E depois do adeus.
(After Good-bye) This song was Portugal's 1974 entry in the Eurovision song contest in Brighton. The singer Paulo de Carvalho had also no idea that his song would become so famous and a symbol of the revolution.
Grândola Vila Morena - a creative and revolutionary protest in Parliament in February 2013.
The parliamentary debate saw an intervention by 20 people from a social movement called Que se lixe a troika. They sang Grândola and interrupted Prime Minister. He said: "of all the ways work might be interrupted, this would seem to be in the best possible taste." Last year, 38 years after the Carnation Revolution, the former soldiers who made it happen did not take place in official celebrations at the Parliament. Instead, they choose to participate in a demonstration on the streets of Lisbon. They joined a protest against the economic crisis and the austerity measures adopted by the government of Prime Minister Pedro Passos Coelho. The conservative government of Passos Coelho is still aiming to reduce the fiscal deficit, a condition imposed by the "troika" of creditors - the International Monetary fund (IMF), the EU, and the European Central Bank (ECB) - that approved a 110-billion dollar financial bailout for Portugal in 2011. How? Everybody says that he's killing April's conquests. We are facing pay and pension cuts, more tax imposition, and the possible end of free universal public healthcare. Prices for natural gas, electricity, fuel and transport are rising. Now it's easier to hire and fire workers. Unemployment benefits were reduced also, among other measures.
Grândola Vila Morena was sung by a huge crowd (Porto demonstration, March 2013)
Music and movies inspired by the Carnation Revolution! If you want to go shopping I found these for you at Amazon's store!


Capitaes De Abril - April Captains
by Antonio Victorino D' Almeida
The original soundtrack of the movie with the same name. Curiosity: the composer is the father of the director Maria de Medeiros.
Buy Now
Capitaes De Abril (Widescreen Edition)
Portuguese movie with subtitles in English. The film pays tribute to the men that plotted the coup. The script could be better. Still, it's a nice way to learn about Captain Salgueiro Maia's deeds and the Portuguese Carnation revolution.
Buy Now
Portugal's Revolution: Ten Years On
by Hugo Gil Ferreira, Michael W. Marshall
Major socio-political study of the fate of Portugal in the decade since the coup d'état.
Buy Now
Vivo: 50 Anos De Carreira
A romantic concert! Paulo de Carvalho will be forever connected to the history of the country. But there's more to the artist than the song E depois do adeus!
Live concert from 2010 at Fundação Oriente when he was celebrating 50 years of his career. In this record, Paulo de Carvalho revisits some of his most iconic themes.
Buy Now
José Afonso - ao vivo no Coliseu
The one and great recorded concert with Zeca Afonso. Lisbon Coliseum.January 1983. The author of Grândola Vila Morena was already very sick when he performed. He died 4 years later. Memorable!
Buy Now