A great surprise for Papelustro!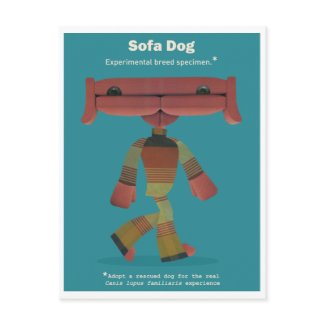 ADOPT A RESCUED DOG!
by
papelustro

View more
Dogs Postcards
Besides A Portuguese love store, I have another store at Zazzle. It's called Papelustro. Last week I got an email about it. A Zazzler made a feature about Papelustro in his blog called
Surreality Watch.
He was too kind, really. He wrote these amazing words about my postcard SOFA DOG:
"What a postcard! This design amazes me. It manages to be surreal, humorous, tender and gorgeous at the same time. Seems based on the finest tradition of graphic design (some '40s and '50s styles come to mind) and I do wish you have friends who will appreciate receiving such a work of art. The artist is Belinha Fernandes from Portugal, her store is named
Papelustro
and everyone crazy enough to follow this blog will be more than happy to go there and take a look!"
Thank you so much!:))
Visit his store,
here!