Handmade gorgeous cards from Sabivo Designs
My friends, I am sorry but for the past two months, I was unable to update this blog. I will return to regular blogging in September. For now, this is just a quick post I promised to make. I am writing about SABIVO Design that is a boutique publisher based in Leicester, specializing in the design and production of unique hand-painted greeting cards.
I was fortunate to be the lucky winner of Sabivo's Giveaway last month July. I was so surprised when I got Sabivo's email telling me the good news! I am not a "giveaway freak"! I have the idea that I never get lucky. So most of the time I don't enter giveaways. This time was an exception, I GOT LUCKY, yeah!! I have always loved her artwork. When I found Sabivo's on Facebook I was immediately a fan and so I invite you to visit her page too.
I was so glad when I got Sabivo's Design package. I was not aware that I would get a collection, that's right, a small collection of six gorgeous cards. Of the cards, I can send one to my father on Father's Day. I have 3 for Birthday occasions, one for Christmas and one for my boyfriend. I don't know if I will send it all, but I want to keep one or two for myself!!
They are perfect. I like the square format and the way Sabivo matches envelopes' color with color painting details. The textured whiteboard is great too. Sabivo cards have small stones, jewels, ribbons, and trinkets. These small details make it really special. Each card is individually hand-painted in watercolor and lovingly hand-finished with embellishment or subtly with glitter. Each card is packaged in a clear cellophane bag.
These handmade cards designed and made in England by Sabina. Who is Sabina? As she wrote herself on Sabivo's site, Sabina is a self-taught artist with a passion for design for as long as she remembers. Together with Ivo who runs the website design and administration Sabivo Design's team helps us sending our words of love and joy on special occasions!
Where can you take a look at Sabivo's products?
Try the
Facebook photo album
More SABIVO designs can be found on
Gallery
and
Hand Painted Greeting Cards
pages.
SABIVO Design offers also additional products, such as iPhone Cases, T-shirts, Art Prints, etc, at Zazu Online Zazzle Store. Click these products I selected and take a look!
Thank you, Sabina, for a wonderful Giveaway, and best luck to your card business!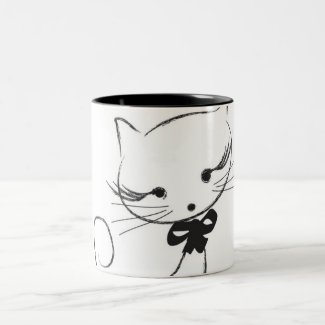 Cute Cat With Bow Mug by zazuatzazzle
Design cups online.